GenieRIP Software for PC Computers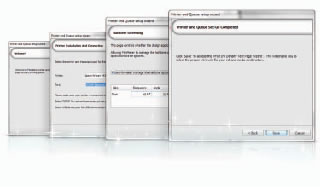 Easy to set-up, easy to use RIP software Quick and easy printer, ink, media setup.
The printer and queue wizard will get you up and running in minutes without the need for any documentation.
Further printing adjustments and customization can be completed afterwards using GenieRIP's advanced settings.
Unmatched Workflow Support
Print Directly from Applications
Send jobs directly from graphics applications such as Corel™, Illustrator™ and PhotoShop™.

Drag and drop files
Simply drag a saved file from your desktop directly onto the queue for processing.
Network printing support
Send jobs from Windows-based or Macintosh workstations to a designated hot folder which
automatically forwards it to the appropriate queue for processing.
Preview, manage all production using Visual Production Manager ™
Simultaneous, multi-queue, multi-printer job management support.
Set-up multiple queues that can all be easily viewed using VPM's tab system.
Send jobs simultaneously to different queues that are set up with different screening parameters or different printers.
GenieRIP will process multiple jobs simultaneously